10 tipů na letní inspirativní čtení
Spolu s naší CEO Radkou Dohnalovou jsme pro vás připravili seznam TOP 10 rozvojových inspirativních knih, které mohou být vašimi společníky na cestách a dovolených, nebo jen zpříjemní dlouhé letní večery. Před spánkem nebo třeba u sklenky vína.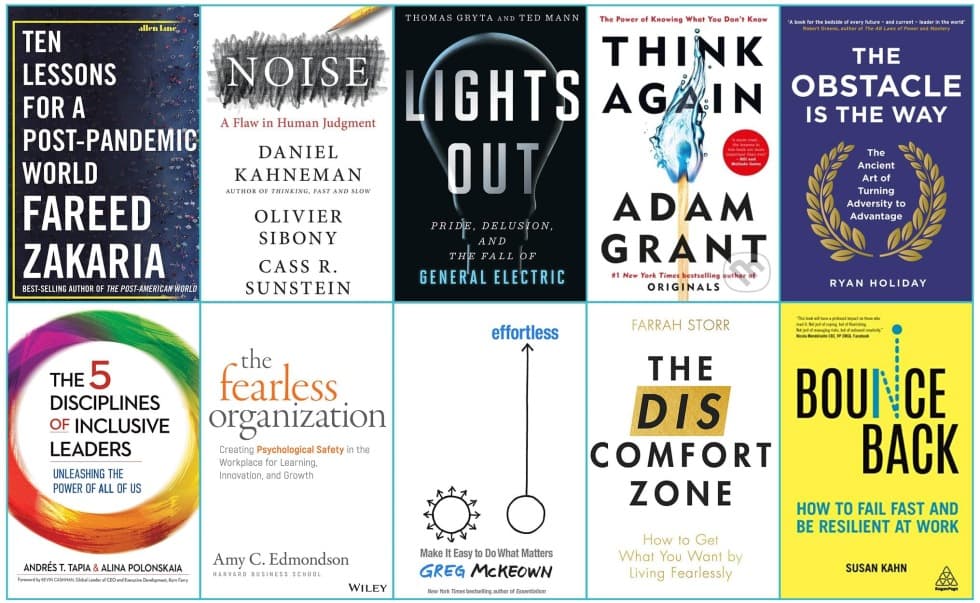 1. Fareed Zakaria, Ten Lessons for a Post-Pandemic World
2. Daniel Kahneman, Noise: A Flaw in Human Judgment
3. Thomas Gryta and Ted Mann, Lights Out: Pride, Delusion, and the Fall of General Electric
4. Adam Grant, Think Again
5. Ryan Holiday, The Obstacle Is The Way
6. Andrés T. Tapia and Alina Polonskaia, The 5 Disciplines of Inclusive Leaders: Unleashing the Power of All of Us by
7. Amy C. Edmondson, Fearless Organization
8. Greg McKeown, Effortless: Make it Easier to Do What Matters
9. Farrah Storr, Discomfort Zone
10. Dr Susan Kahn, Bounce Back: How to Fail Fast and be Resilient at Work
Přejeme příjemné a inspirativní čtení.
Odebírejte náš newsletter a mějte přehled o tom, co se děje v oblastech adaptivity a leadershipu.